Campus Space Planning 2019
Design and Construction Projects
CHEERS Award Recipient: Ed Jones
Facilities Office Hours
The Facilities staff is operating on a limited schedule starting Monday, April 13th. If you have a maintenance request, please click on the "Maintenance Request" tab on this page. If your request needs immediate attention such as no Heat or Air Conditioning, Power outage, Flood or significant damage to property please call 804-289-8600 and choose option one for assistance.  Our phone lines will be operational 24/7 and our Warehouse will be open from 8:00am to 4:30pm. Email us with any questions.
Planned Power Outages
UPDATE:
Wednesday July 1st – Power Outage 1 Area impacted: Campus wide.  Dominion Energy has targeted the possible 1.5 hrs. outage to be sometime between 11:00am and 3:00pm. Special Programs Building, UFA's, Atlantic, Pacific, Law Dorm, Stadium, and the President's Home will not be impacted.
Original Message:
University Facilities is working on the final details but would like to notify you of 2 upcoming, scheduled power outages to campus.  These outages are required as part of the Electrical Infrastructure Project.
Please note that the exact time for the July 1st outage has not been determined by Dominion Energy. Updates will be posted here.
Wednesday July 1st - Outage 1 – Power- Campus wide.  Required by Dominion Energy to make connection to the University's new Switchgear.  (Still working through details with Dominion/ C&L)
We have requested 7/1. Still trying to finalize time through Dominion power.
Outage will last approximately 1.5 hrs.
Monday July 6th Outage 2 – Power – Richmond College Side. This will allow us to relocate feeder 4 out of the steam tunnel to allow contractors to complete work needed for the Ryland addition & Steam relocation.
(University Holiday)
Outage will last approximately 8-10hrs. 7am-5pm
WCRW, Data Center, ROBC, Practice Facility will be the last buildings to be energized.
Interactive Project Map
View the interactive campus map to learn about significant construction and project work happening in our community.  For more details on these projects as well as periodic updates, click here.
Ryland Hall Construction
Ryland Hall is undergoing a proposed full building renovation starting with underground utility work in early 2020. The below map highlights the construction zone and the resulting temporary changes to pedestrian and vehicle traffic through the entire project. The project is scheduled to be completed in the fall of 2021. 
To view the full map in PDF format, click here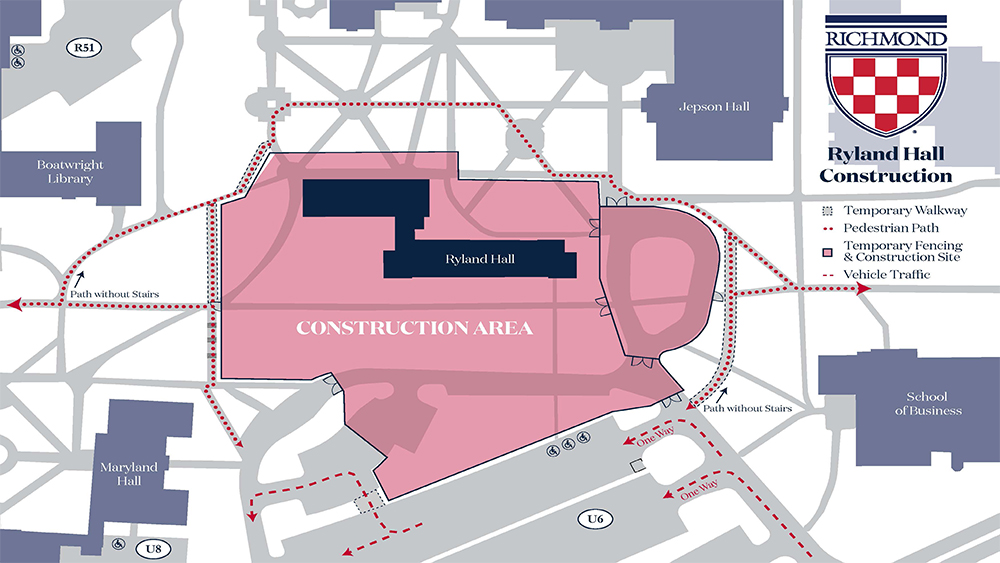 Campus Electrical Distribution Project
The work to upgrade the cable is necessary to convert the University¿s antiquated 4,160-volt electrical grid into a 35,000-volt bi-directional grid, ensuring a reliable system and redundancy capabilities to minimize the impact of power outages on campus. This first phase of the multiyear project began in winter 2018 and in coordination with Dominion Energy. Over winter break 2019, Dominion Energy completed their work at the substation located between the Steam Plant and the Wilton Center, enabling the installation of a new loop to be completed in the near future. Electrical shutdowns are tentatively planned to occur during time frames least impactful to campus including nights, weekends and breaks. These planned outages will be communicated by University Facilities.
Services
Resources
Contact Us
Contact Us: (804) 289-8600